Would You Ever Wear The Clothes On The Emoji Keyboard?
"To whom it may concern" I begun my e-mail to the emoji keyboard creators. "I wondered if you could put me in touch with your emoji fashion designer? I'd love to interview them for an article* I am writing about emoji fashion and to discuss with them the creative process behind the keyboard's current capsule wardrobe. I'd also love to know if they are thinking changing any of the product for the new season?"
I imagine it was a fiercely competitive short list, I wanted to say, given that there are only five pieces of clearly discernible womenswear and that includes a bikini and a pair of unisex jeans (thank god for the unisex jeans!) I also wanted to talk about the emoji muse, who clearly wears less clothing than Courtney Stodden. Where is my jumper? My jacket? My coat?
I kept my e-mail polite, though, masking any scepticism I might have had for, say, the relevance of a straw hat with an apple green ribbon in the modern woman's day-to-day wardrobe. After all, I didn't want to come across as disparaging; I was hoping for a direct line with one of the most influential designers in the world. Think about it: there is not one other fashion designer who can count every single iPhone-possessing human as a customer. And all that, without ever having created a stitch! From rich to poor, young to old, the emoji wares are employed daily. And what wares they are.
My e-mail fell on deaf ears. Not a word in reply; nada. So, let's cut to the chase here and spell out the obvious: did the emoji designer – we'll call he/she Moji, because it sounds like Yohji – have a lobotomy? In what land can you make a legitimate outfit out of the current emoji closet? Even Anna Della Russo is going to struggle here.
For your entertainment (and at the cumulative expense of £73) I purchased a clutch of emoji clothing and road-tested the efficiency of this capsule wardrobe. The purchasing was done in its entirety via eBay and my shopping list was as follows: orange kimono 👘 gold boots 👢 purple polo shirt 👚 white sneaks 👟 green frock 👗 straw hat 👒 gold mules 👡and one apple green ribbon to trim the straw hat.
I'm miffed my gold mules never turned up, because they would have gone best (where best means worst) with the polo shirt and also they cost £7.99 which could have bought me at least 2.5 packets of Biltong. The most expensive purchase was the gold boots, a fancy-dress box staple for life, ringing in at £19. The things I do for you! Incase you're wondering, the itsy bitsy teeny weeny [pink] polka dot bikini was eliminated for firewall purposes. In that I am the firewall, preventing your eyes, from my thighs.
In order to commit fully to the cause, I imagined three hypothetical movies in which these outfits may legitimately work.
Outfit 1: Austin Powers And The Geisha Girls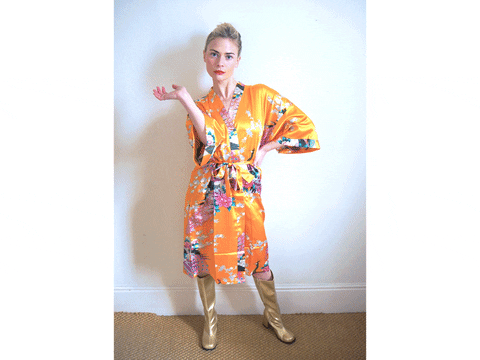 You may question the sartorial veracity of pairing the most superlatively revolting boots with an equally 'arresting' shiny orange kimono. But in response, I would merely state that these pieces were fucked from the beginning so they might as well be gloriously so, together. Everyone knows that a capsule wardrobe must be built on a foundation of multi-purpose staples. There is nothing in the emoji repertoire which would go with either the gold boots, or the 'mono, and for that reason, they best belong together. My favourite outfit, by far, in that both pieces are now founding members of my very own dressing-up box. Now that I'm 29, the hall pass to my mother's one has expired. So this was a prescient and some would say necessary bout of purchasing.

Outfit 2: Sweet Valley High: The Summer Camp Special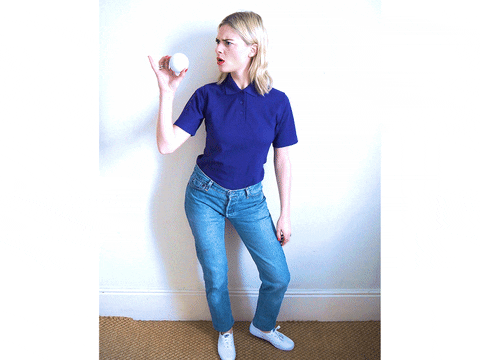 No-one's worn a polo shirt since 1999 (unless it's a lurex one and then apparently they're cool again) especially not a grape coloured one. I'm too young for grape-spotting, right. Right? Thank god for the normcore blue jeans and white plimsolls, which makes this a socially acceptable if entirely unexceptional outfit. If this was a real movie, and not merely a figment of my imagination, then I would play the square best friend of Elizabeth. And yes, she was already pretty square.
Outfit 3: Death On The Village Green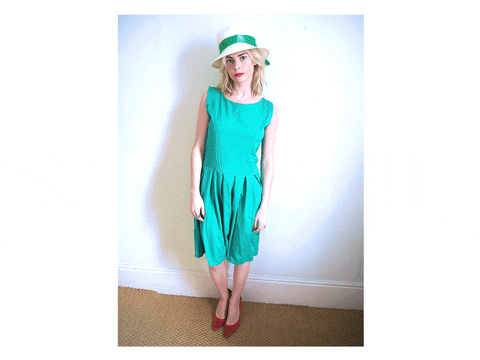 A Poirot classic, this televised mini-series was set in 1936 and stars Romolai Garai and Jessica Brown Findlay. There are more straw hats that you can shake a fist at, and the major events of note are that someone dies, because their straw hat with apple green ribbon sets on fire. If I wanted to make myself feel like basic bitch's grumpy old cousin, this is what I might wear to a wedding, or something involving the words 'country club'.
Thank you to Ollie Tritton, for actually giving up part of your Saturday to photograph this ridiculous project. And the ever patient Natalia Bagniewska, for the artwork and GIFs.

*Loose definition
comments powered by

Disqus